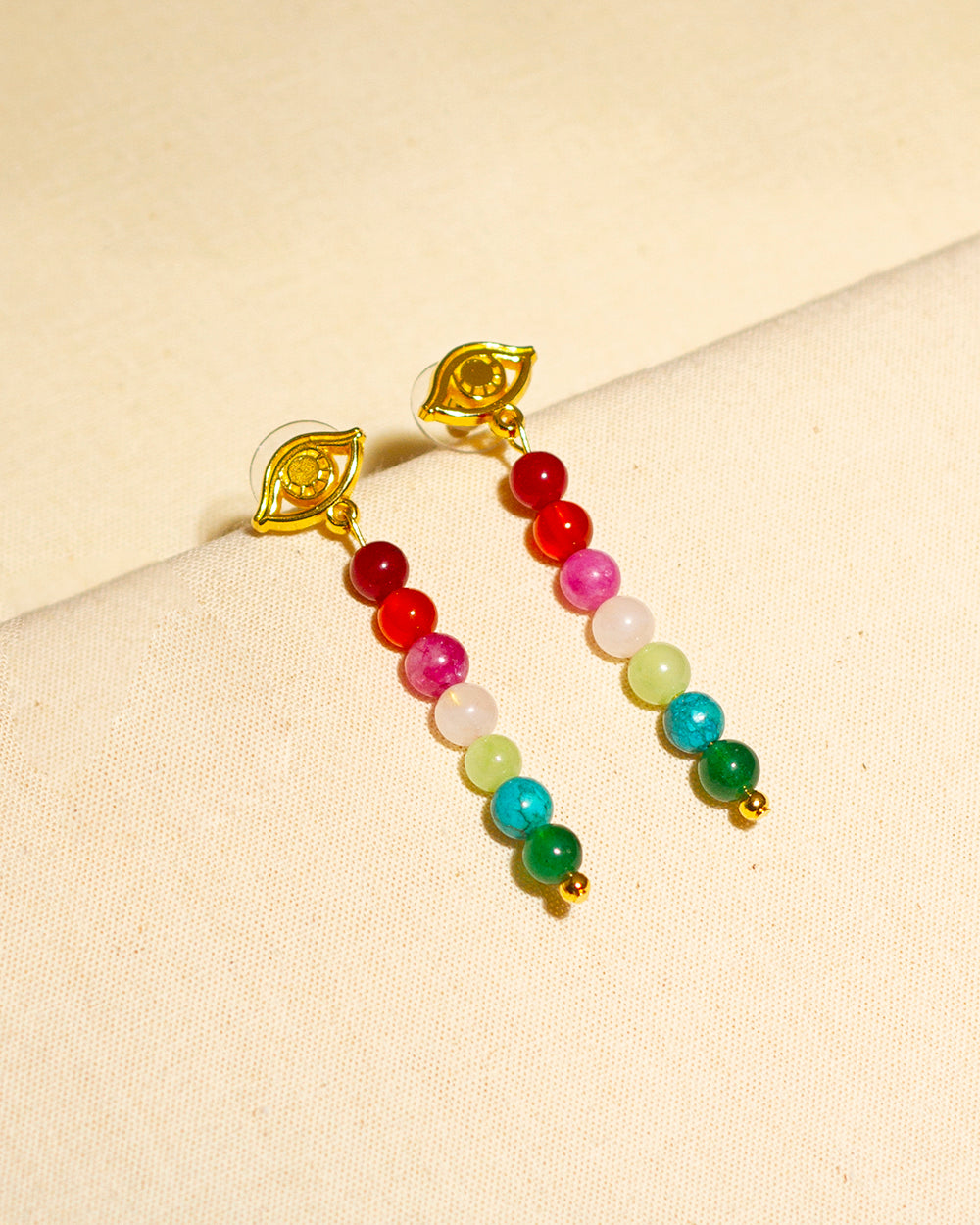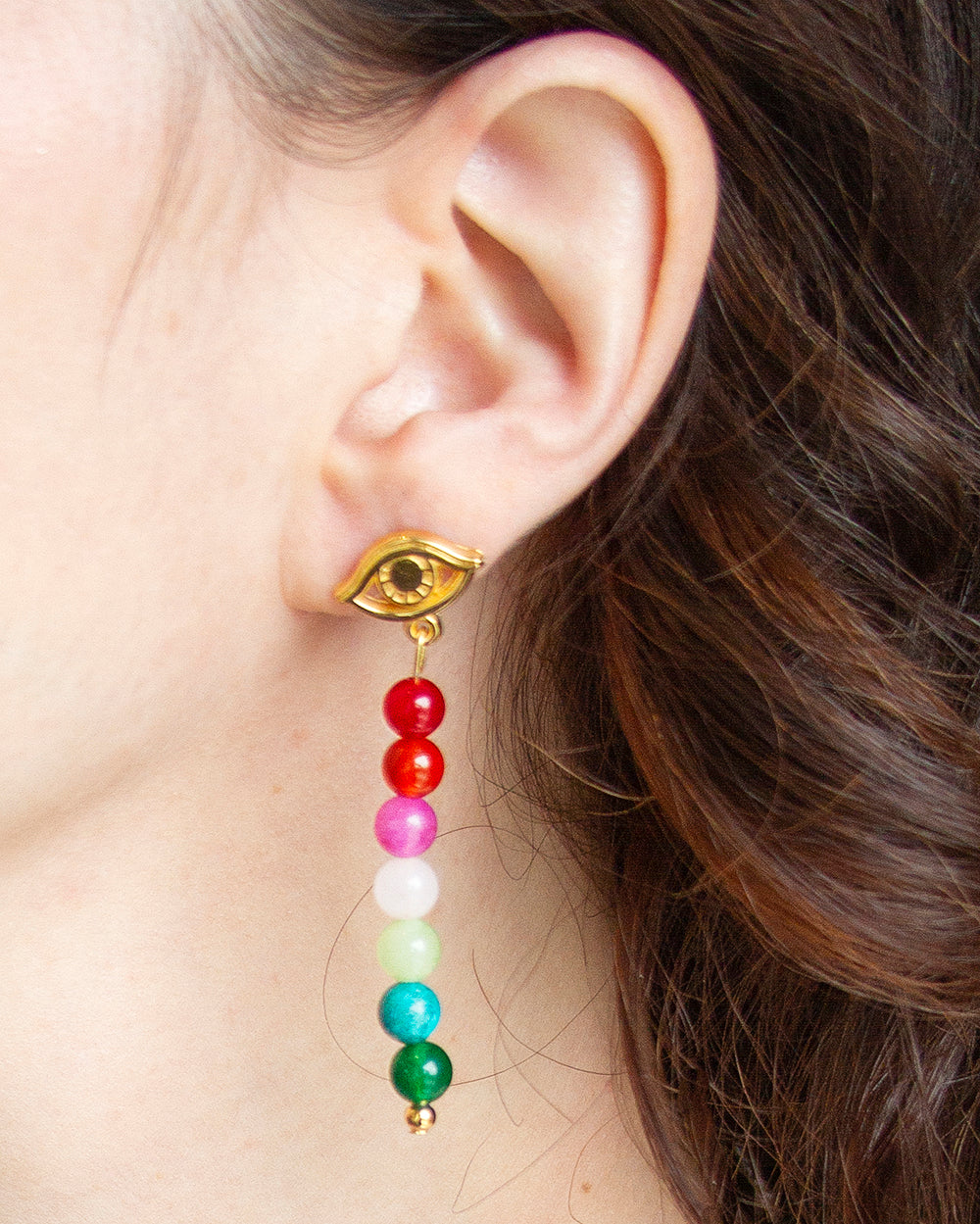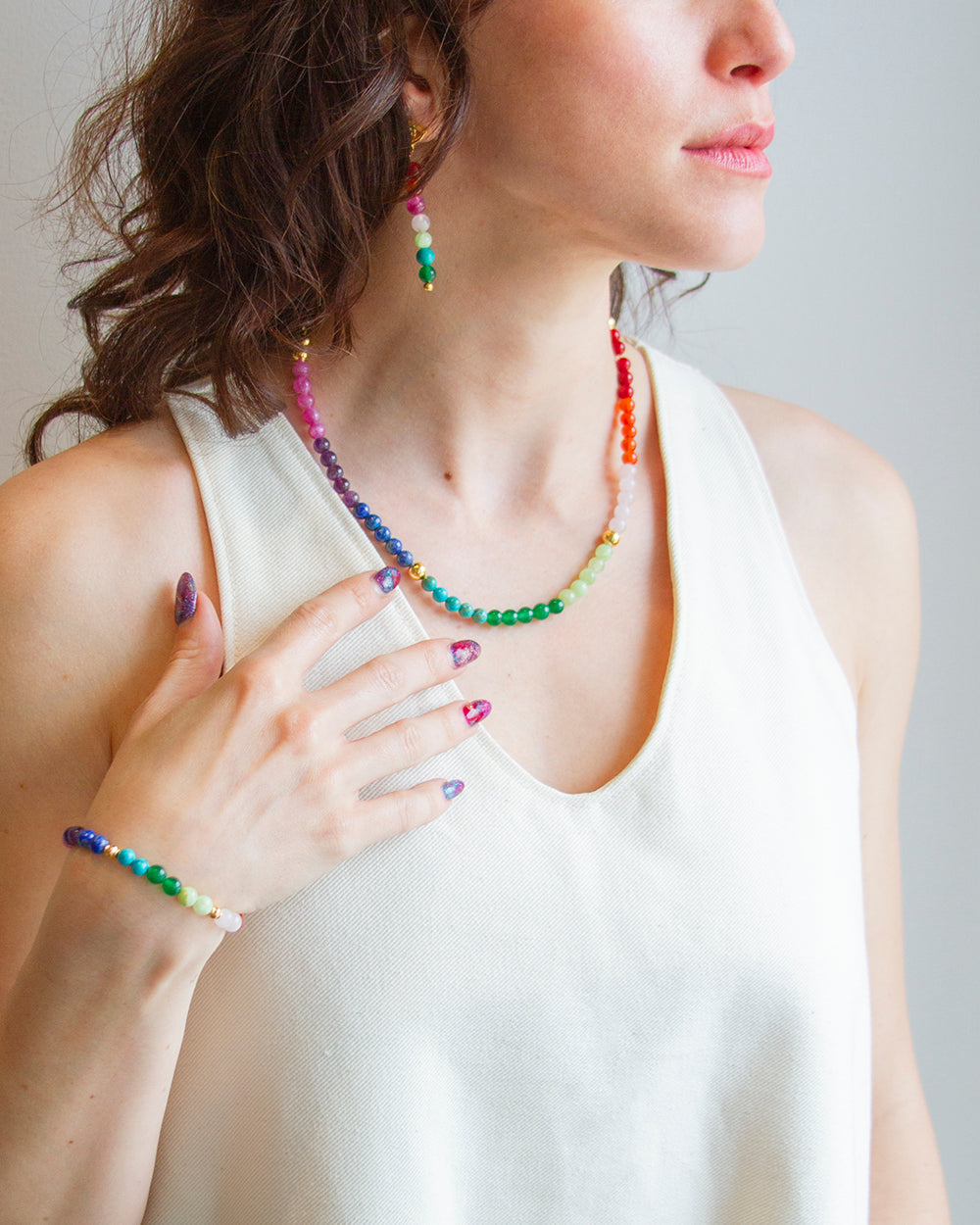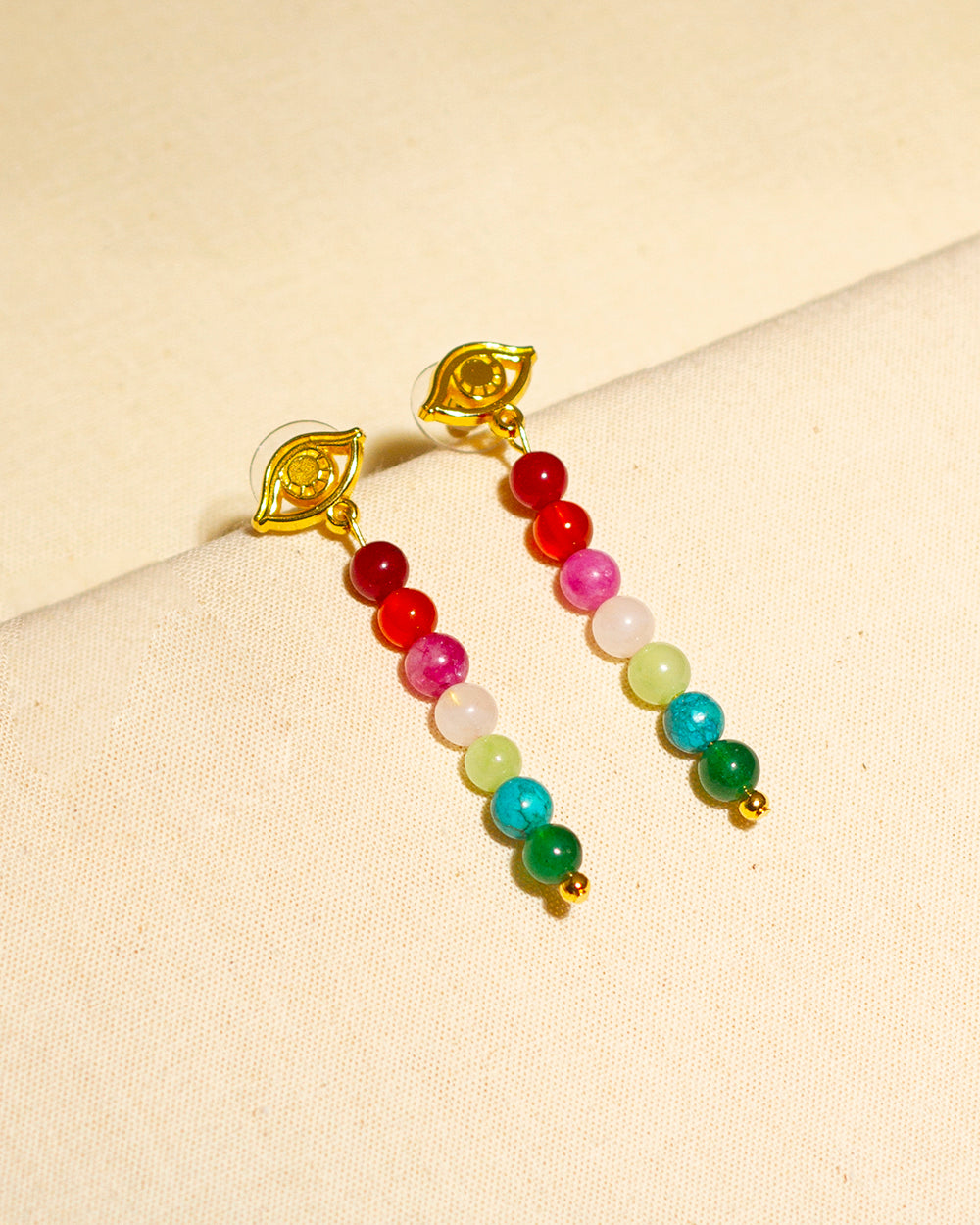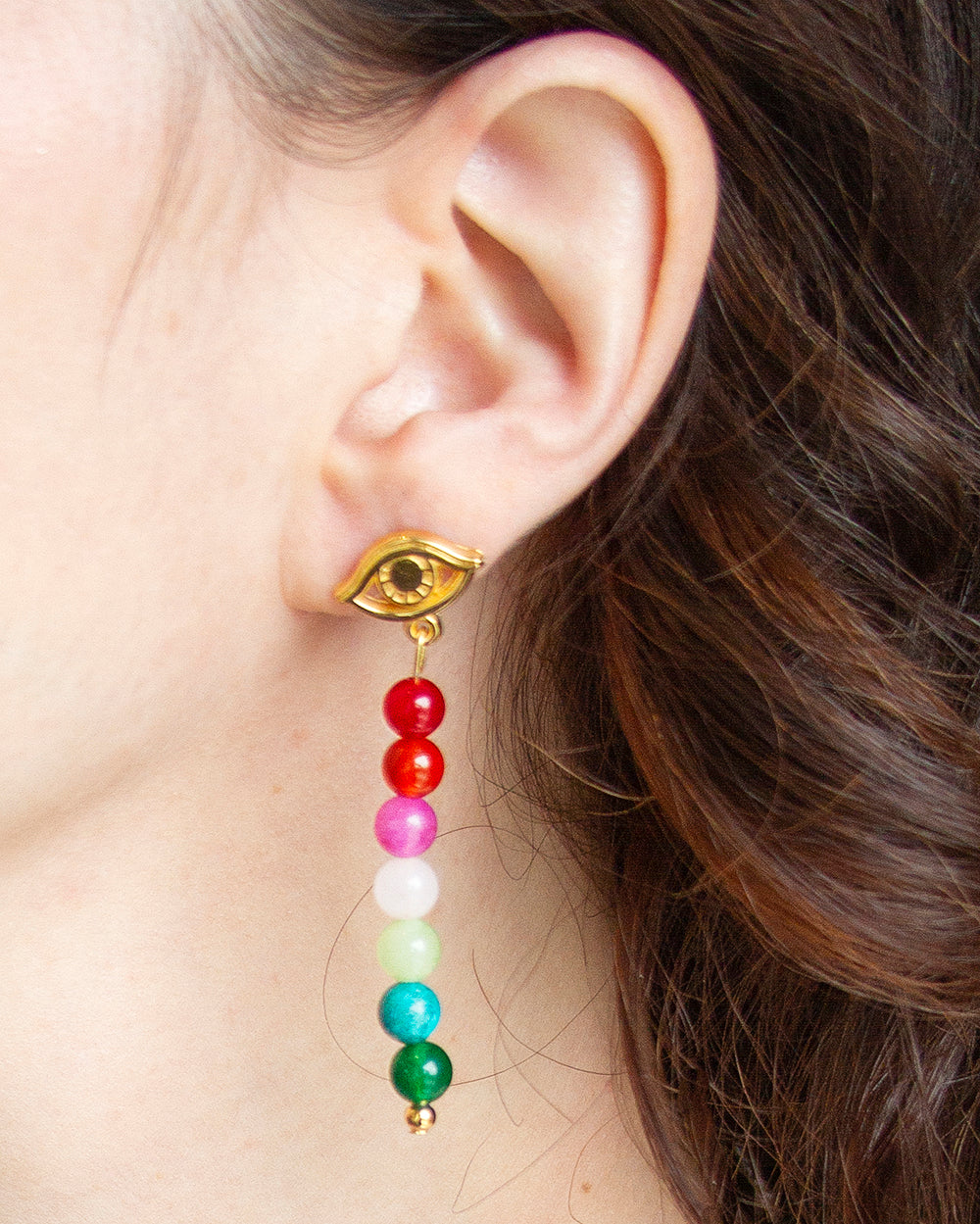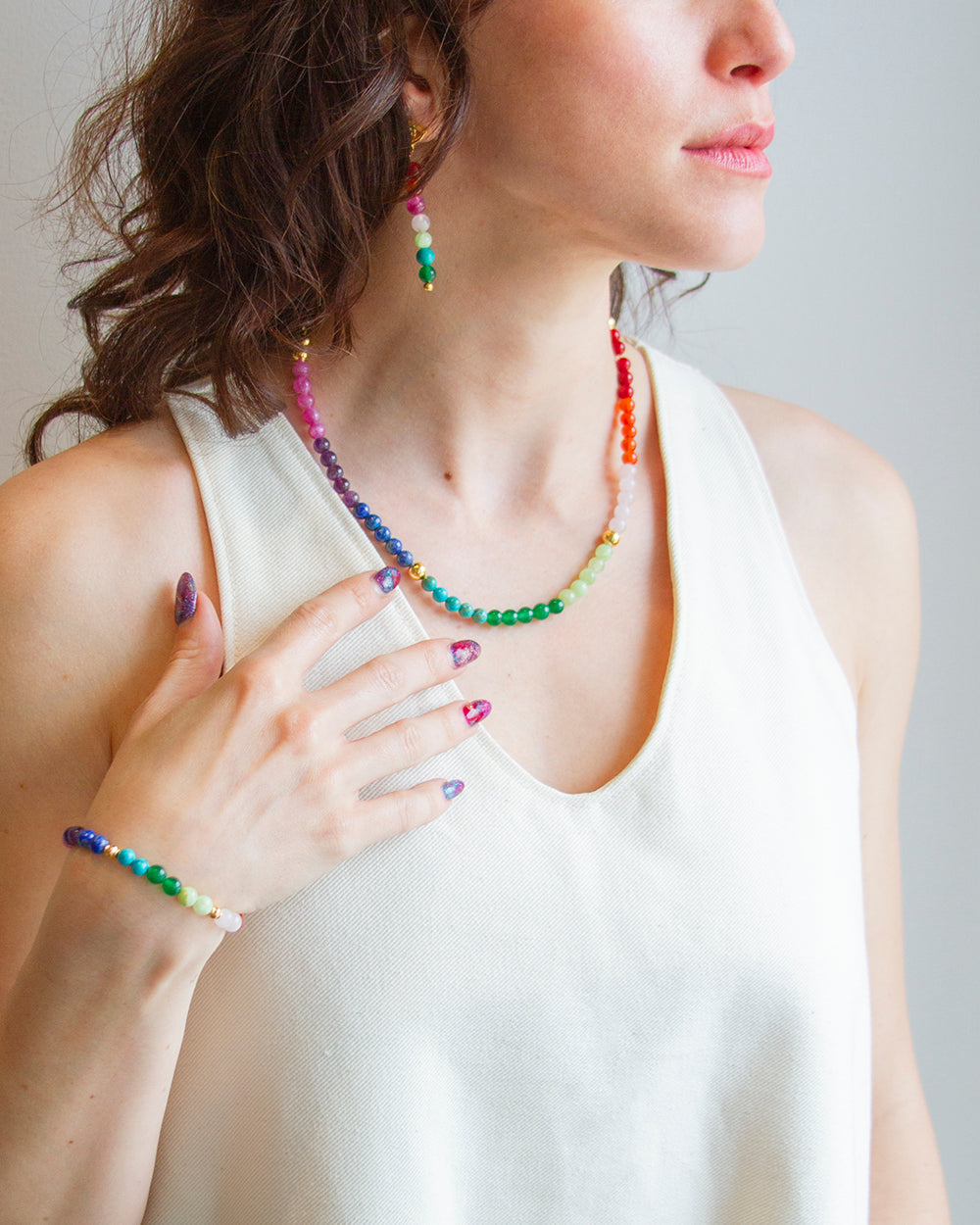 Regular price
Sale price
$118.00
Unit price
per
Sale
Sold out
Add some tropical flair to any summer look with these gold-plated dangling gemstone earrings. They feature an evil eye at the post for warding off bad luck, followed by a beautiful string of colorful gemstones. Perfect for the beach, vacation, or any boho-style occasion, the light and stylish design is sure to be a favorite.
About the Artisans

All the jewelry from this line handmade at a studio in Mexico City. Patricia, who is Mexican, is the founder and creative director, working with her partner Hector who is from Spain. It is this mixture of cultures that allows the jewelry they create together to have its own universe, creating an imaginary world full of shapes, colors and textures, in which ethnicity and design are in a continuous game. That is why their studio is named after La Malinche, considered by some to be a folk hero and by some to be a traitor for being translator and consort to Spanish conquistador, Cortes.
Materials

Each of these gemstones has a different story, a different origin, and a powerful energy. Their magic lies in the fact that each one has been formed for hundreds of years, and has landed now in your hands to accompany you forever.

Rose Agate: it reminds us of the joy of living. Known to bring harmony and balance. It promotes self-confidence and improves spiritual growth, love and courage. It calms your fears to understand change as something empowering.

Amethyst: the stone of the here and now. It mentally helps to stay in the present. To be where you ought to be, aiding in decision making with common sense. Amethyst has one of the highest frequencies, so it's widely used for meditation purposes.

Lapis lazuli: Known as the stone of the Gods, it represents the image of the unlimited Universe, as Nature painted for us. This stone is considered a master of light, because it connects us to our higher self and the concept of unity, as well as all the possibilities the Universe offers us.

Turquoise: Known as the cosmic Mother, this stone connects us with mother earth and our sacred feminine, our creative, intuitive side, and our emotional power.

Green Jade: the stone of abundance, knowledge and good luck. It reminds us that these three things always come from within, spiraling outwards. Its green color is expansive, giving us abundance and the feeling that we deserve good things.

Calcite: It is said that this stone brings clarity and mental balance, and it improves ingenuity. It eases communication and the transition from a blocked to a positive situation. It helps to bring ideas to fruition, and to see things with perspective.

Rose Quartz: the stone of unconditional self-love. It reminds us to go easy on life. Keeping a rose quartz close is like keeping our heart up front, so we can feel its embrace during tough times, and its growth in loving moments. It contains us, protects us, and teaches us to love purely, from the heart instead of from reason.

Carnelian: the stone of rockstars. It connects us to our most fun, lit-up, wild and adventurous side. It represents vitality and strength, so we can confront life by having fun in the process.

Red Jade: it symbolizes the passion for living and for doing what we love. It is known as the Chi stone, which brings the energy from the warrior's soul. It is considered a talisman of individual will and power.

22 carat gold plated brass with 22 carat gold plated sterling silver posts.

View full details